With the advent of much improved information systems and mobile communications, future success in ship Sale and Purchase (SnP) will increasingly be dependent on having access to accurate information in almost real time. Having available the latest tools and technology will be a prerequisite for every broker who wants to remain competitive. The most successful brokers however will still be the ones who have an insight into the market gained by a combination of experience and market data and those who have an extensive array of long-term relationships. Importantly, they will also be the brokers who are capable of adding value to a deal by devising creative solutions to challenges and being able to keep clients fully up to date with what is happening, and is likely to happen, in the market.
In our previous article, SnP meets AI – Part 2, we referred to the fact that Artificial Intelligence can already be used in the chartering sector. The multitude of chartering brokers, the wide range of variables that influence outcomes, the number of transactions and volume of data to be analysed have all contributed to the level of interest shown by so many tech companies, including those with relatively little or no previous experience in the market.
With the launch of the CompassPulse suite of products designed exclusively for SnP, Sale & Purchase brokers now have available a range of Artificial Intelligence tools that are set to revolutionise the global S&P market.
What will these AI tools do?
For many years now, we at CompassAir have been building and enhancing products that empower our clients to optimise their operations and accelerate their growth. Software that essentially gives them a competitive advantage over others in their chosen sector, whether that be SnP brokers, chartering brokers, ship owners or ship managers.
By closely following the technological developments taking place in the field of AI generally, and then combining that knowledge with our extensive experience in the maritime sector, we have been able to launch our own range of AI products, CompassPulse. These are products that have been developed in conjunction with leading SnP brokers around the world, then tested and fine tuned in the day to day operations of those same experts.
Whilst we recommend these products be used alongside and thus add even more value to our existing CompassAir messaging and SnP module, they can also be applied to any other email client (for example, Outlook). In other words, the benefits of CompassPulse are also available to those SnP brokers who wish to continue using their current messaging software.
So what does optimising operations and accelerating growth mean exactly in the context of what CompassPulse can do? The individual products are explained in more detail below, but essentially the benefits are as follows:
Speed – an incoming message takes time to read, understand and then to decide what action should be taken. The average SnP broker will have hundreds of messages landing in his or her inbox each day, so the time taken just to process messages, let alone act upon them, is immense. By using AI we can automate these tasks. The moment a message arrives

CompassPulse

will read it, understand its content, and update records, for example linking the message to a vessel in the ships database, or to record a Purchase Enquiry or a Commercial Advice.
Instant recommendations – having understood and recorded the content of each message, almost instantaneously the next step will be suggested. For instance, having recognised a newly arrived Purchase Enquiry, with almost no delay the broker will be made aware of the vessels currently available for sale that match the requirements. Not only is time being saved, but any lag in responding to opportunities is virtually eliminated, the significance of the advantage this brings over competitors cannot be overstated.
Better use of resources – reducing the number of repetitive tasks currently undertaken manually, with these handled instead by the software. Resources can be applied to more profitable activities. As an illustration, in a very small broking firm the brokers themselves will probably be watching out for Purchase Enquiries and Commercial Advices. It is highly likely they will be spending significant amounts of their valuable time first finding, then matching either available vessels with enquiries, or alternatively, vessels that are for sale to existing enquiries. When AI is applied to this process, more time will instead be available for the broker to add value using his or her real expertise and experience. In larger firms, administrative tasks and ships SnP database are handled by specialist staff or departments. These resources will also be released and hence also be available to apply to more productive activities.
Competitive edge – faster, more accurate solutions being suggested for opportunities as they arise, the elimination of repetitive administrative tasks, the ability to handle more information more efficiently than ever before. All these benefits combined with a more productive use of limited resources, the implications for competitive advantage are obvious.
What specifically can CompassPulse do?
By using CompassPulse, an SnP broker will be able to operate more efficiently than his or her competitors. What were previously manual tasks will be now be performed by the software, that means they will be performed faster and more accurately, with the added advantage of freeing up limited resources that can then be used for other more rewarding tasks.
Importantly, those currently manual tasks include finding solutions for new commercial opportunities as quickly as possible. In order to automate the almost instantaneous delivery of such solutions, there sits at the heart of CompassPulse both ShipLink and Enquiry Recorder. Both products can read and understand the content of messages.
ShipLink watches out for vessels contained in incoming emails. When it finds that a message refers to a vessel, it effectively makes a note and updates the ships database. An SnP broker can then be confident that when he or she next accesses the vessel database, against each vessel name will be an up to date list of all messages linked to that vessel, the content of which can then be viewed in CompassAir by clicking on the relevant message. Further actions can then be performed by making use of ForSale Tagger, Ship Proposer and Enquiry Proposer, as explained below.
Enquiry Recorder is watching out for Purchase Enquiries contained in incoming emails. Similar to ShipLink, once it spots a P/E in an email it is recorded in readiness for subsequent action, usually a manual search for vessels that are currently available for sale and that match the requirements of the P/E. In other words, vessels that have recently been the subject of a Commercial Advice.
ForSale Tagger works in conjunction with ShipLink and replaces another manual task – updating the vessel database to show that a particular vessel is now available for sale. In other words it identifies Commercial Advices and makes an appropriate note in the vessel database. On its own, this is another way to save time and resources as well as a way to ensure that the vessel database is up to date, a prerequisite when matching vessels to a P/E. To take things one step further still, the next product, Ship Proposer, can also be used.
Ship Proposer, once again replacing what is ordinarily a time consuming manual task, scans the vessel database for vessels for sale that match a Purchase Enquiry as soon as it is received. Used in conjunction with ShipLink, Enquiry Recorder and ForSale Tagger, you can quickly see that the whole process of matching vessels to a P/E can be automated. 
In a nutshell, ShipLink looks for vessels, Enquiry Recorder for P/Es, ForSale Tagger identifies those for sale via Commercial Advices and Ship Proposer matches a P/E to vessels currently for sale that satisfy the needs of the potential buyer. Importantly, once the matching has taken place the broker is notified, often within seconds after a P/E has been received, of all the vessels that are available and that meet the stated criteria.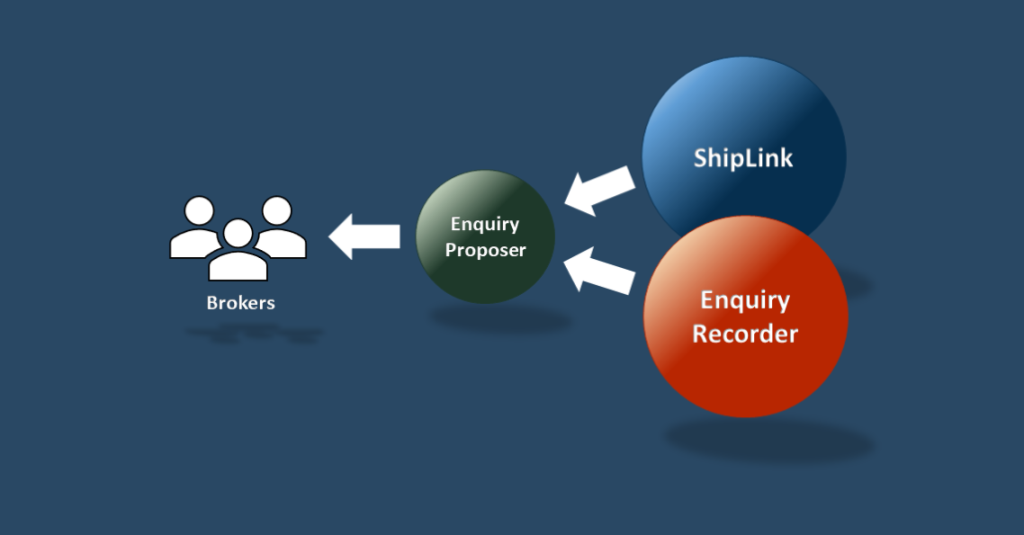 Finally, and in a similar manner to the Ship Proposer, Enquiry Proposer automates the matching of incoming Commercial Advices to a working P/E, the broker once again being made aware, almost immediately, of an opportunity.
CompassPulse has been designed and built specifically for Sale and Purchase shipbrokers and is based on many years of practical experience working with the leading companies in this sector. The result is a range of Artificial Intelligence tools that we are confident will revolutionise the global S&P market.
CompassPulse works "out of the box" with what is the de facto standard of the SnP market, CompassAir messaging software, as well as with any other email client (e.g. Outlook). For more information, a short demonstration and to discover how your business can benefit from the use of AI please do not hesitate to contact us.
A few words about CompassAir
Creating solutions for the global maritime sector, CompassAir develops state of the art messaging and business application software designed to maximise ROI. Our software is used across the sector, including by Sale and Purchase brokers (S&P/SnP), Chartering brokers, Owners, Managers and Operators.
Through its shipping and shipbroking clients, ranging from recognised World leaders through to the smallest, most dynamic independent companies, CompassAir has a significant presence in the major maritime centres throughout Europe, the US and Asia.
Our flagship solution is designed to simplify collaboration for teams within and across continents, allowing access to group mailboxes at astounding speed using tools that remove the stress from handling thousands of emails a day. It can be cloud based or on premise. To find out more contact solutions@thinkcompass.io. If you are new to shipping, or just want to find out more about this exciting and challenging sector, the CompassAir Shipping Guide might prove to be an interesting read.
Contact us for more information or a short demonstration on how CompassAir can benefit your business, and find out how we can help your teams improve collaboration and increase productivity.