In our previous look at the global economy – "Beyond Coronavirus – the 2020 Economic Outlook", updated in July – we had hoped that Covid-19 had done its worst and that the situation was starting to improve. Indeed growth in the second and third quarter was encouraging. Unfortunately, since then, there has been a resurgence of the pandemic, the so-called "second wave", in most parts of the world.
As we reach the end of 2020, economic forecasts have been updated to reflect the developments of the second half and with expectations for the coming months. These forecasts are summarised below, with links to the reports from which the data has been extracted. All are accompanied by warnings that any projections are subject to a high degree of risk and uncertainty, given the unpredictable nature of pandemic and therefore the actions that may need to be taken by the various national authorities.
Thankfully, 2021 is expected to show a significant turnaround compared to 2020, growth in world GDP ranging between 4% to 5%. Pent-up demand, less uncertainty and the rebuilding of inventories all contributing, with the confidence gained from a successful deployment of vaccines playing a major part. However, a full recovery will take time, and continued government spending will be needed to prevent permanent damage to economies.
2020 and beyond – GDP forecasts
---
European Economic Forecast – November 2020
"Rebound interrupted as resurgence of pandemic deepens uncertainty" – as restrictions were lifted, activity rebounded strongly in the third quarter of 2020, only to be disrupted again with a resurgence of the pandemic. As a result the EU prediction is that the Euro area economy will contract by 7.8% in 2020 (slightly higher than the last forecast) before growing 4.2% in 2021 (slightly lower), and 3% in 2022 (barely returning to pre-pandemic levels).
Growth in 2021 will be adversely affected by continuing virus containment measures as well as less beneficial trading relations with the UK following Brexit. Differences in economic structures and domestic policy responses, as well as the severity of the pandemic, means that rates of growth will vary significantly across member states.
The same observations can be made throughout the various global economies, with global GDP expected to contract by 3.75% in 2020, and to expand by 4.75% in 2021, again unevenly around the world.
As a result of central banks' liquidity provision around the world, financial markets have held up well in the last few months, this despite the economic damage caused by Covid-19 – evidence of a "de-coupling" of the financial markets from the real economy. This may change as state guarantees for support to business enterprises are gradually withdrawn, with tighter credit controls being introduced as a result.
Again, with emergency support measures being phased out, unemployment is set to rise in 2021, but should improve in 2022 as economies gradually recover (in the Euro area 7.5% in 2019 to 8.3% in 2020 and 9.4% in 2021, before declining to 8.9% in 2022).
The uncertainty and risks surrounding the forecasts are exceptionally large, the principal risk being a worsening of the pandemic, requiring more severe health measures with a greater, and longer lasting impact on the economy.
OECD Economic Outlook – December 2020
"A brighter outlook but the recovery will be gradual" – a boost in confidence from the distribution of vaccines is expected to strengthen the improvements in the economy in 2021, however with continuing uncertainty remaining with tightened restrictions on economic activity, the result of a resurgence of the virus. Global GDP is expected to increase by 4.2% in 2021 – which could be stronger with a faster vaccine deployment – after a contraction of 4.2% in 2020. The recovery is expected to be strongest in Asian countries, as these appear to have been more successful at controlling the virus.
Again, recovery will be uneven across the world, with those countries with effective track and trace systems, and rapid deployment of vaccines likely to perform relatively well. Growth will be restrained by the weakness of global demand – however, with less uncertainty it is expected that the gradual release of savings will fuel consumption and investment.
IMF World Economic Outlook – October 2020
"A Long and Difficult Ascent" – a less severe contraction in 2020 is forecast at 4.4%, due to better than anticipated outturns in the second and third quarter, as activity improved following the easing of lockdowns. Global growth is projected at 5.2% in 2021. This is based on the assumption of continued social distancing being gradually eased as vaccine coverage expands.
Medium term predictions – growth slowing to 3.5% – is on the assumption that economies will continue to experience scarring from the depth of the recession, with the need for structural changes to improve potential output. These include changes to costs and productivity, upgrading workplace safety and resource re-allocation across sectors.
Once again, the uncertainty surrounding these predictions is significant – the path of the pandemic, the public health response and the consequent domestic activity disruption, all combined with the impact of uncertainty on consumption.
WTO Trade Statistics and Outlook – October 2020
"Trade shows signs of rebound from COVID-19, recovery still uncertain" – with the WTO forecasting a 9.2% decline in the volume of world merchandise trade for 2020, followed by a 7.2% rise in 2021, caution is advised given the uncertainty of ongoing pandemic effects.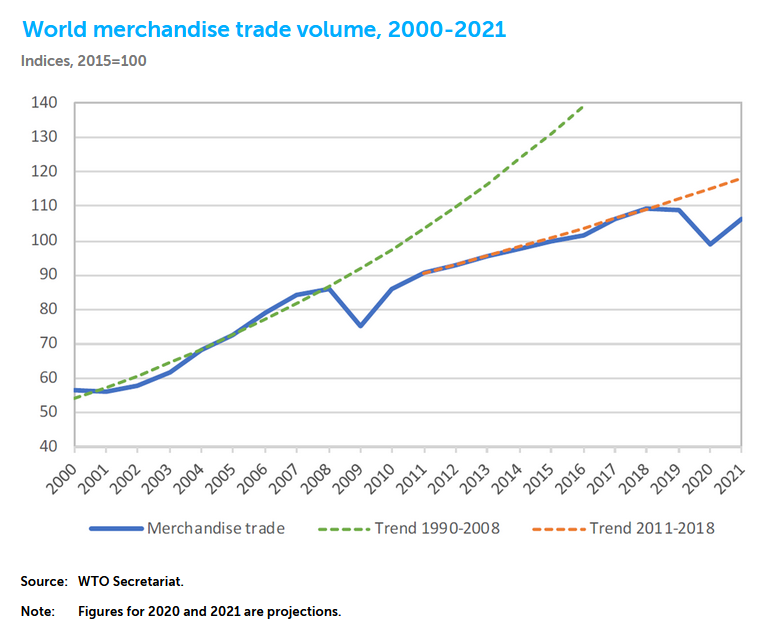 Growth in trade for 2020 exceeded expectations due to a surge mid-year as lockdowns eased and economic activity increased. This however could slow sharply once accumulated demand is exhausted and inventories are replenished. Caution was needed if there was to be a resurgence of the pandemic in the last quarter, which unfortunately has been the case.
Global GDP for 2020 is forecast to fall by 4.8% before recovering to 4.9% in 2021, this being dependent on the extent of the further spread of Covid-19 together with the policies adopted by authorities in response. The recovery would be strengthened by the confidence arising from a faster vaccine deployment around the world. Risks to the forecast are mainly downside, confidence being undermined by new outbreaks of the pandemic, with limited upside potential arising from effective treatments, however with less immediate impacts.
In the above projections, the optimistic scenario assumes a second wave of Covid-19 would be better managed than the first, with more limited lockdowns and less of an economic impact. The more pessimistic forecast assumes a slower recovery due to increased debt burdens, high unemployment and a limited deployment of vaccines.
Fitch Ratings – December 2020
"World GDP Recovery to Strengthen from Mid-2021 on Vaccine Rollout" – Fitch forecasts world GDP to fall by 3.7% in 2020 compared to the 4.4% when reporting previously, despite further tightening of restrictions. "The vaccine news is very positive for the economic outlook over the next two years".
The 2021 global growth forecast is 5.3%, stronger growth expected in the second half. The downside risks once again come from repeated lockdowns and restrictions, as well as the outcome of trade negotiations between the EU and the UK following Brexit, the failure to reach agreement impacting Fitch's UK GDP forecasts more severely.
The resurgence of Covid-19 around the world at the end of 2020 will mean that the coming months will remain challenging. However, given the unprecedented speed of development of vaccines and with their distribution already under way, the outlook for 2021 now looks much brighter than it did a few months ago.
A few words about CompassAir
Creating solutions for the global maritime sector, CompassAir develops state of the art messaging and business application software designed to maximise ROI. Our software is used across the sector, including by Sale and Purchase brokers (S&P/SnP), Chartering brokers, Owners, Managers and Operators.
Through its shipping and shipbroking clients, ranging from recognised World leaders through to the smallest, most dynamic independent companies, CompassAir has a significant presence in the major maritime centres throughout Europe, the US and Asia.
Our flagship solution is designed to simplify collaboration for teams within and across continents, allowing access to group mailboxes at astounding speed using tools that remove the stress from handling thousands of emails a day. It can be cloud based or on premise. To find out more contact solutions@thinkcompass.io. If you are new to shipping, or just want to find out more about this exciting and challenging sector, the CompassAir Shipping Guide might prove to be an interesting read.
Contact us for more information or a short demonstration on how CompassAir can benefit your business, and find out how we can help your teams improve collaboration and increase productivity.